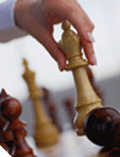 The main aspects of Attica Ventures' investment strategy are:

The Fund invests in Greece.

It invests in a wide range of innovative companies, primarily in the fields of energy, telecommunications, IT and IT applications (e-commerce, Internet, etc.).

The Fund may also invest elsewhere in Europe through companies with legal seat in Greece.

Total investment in a single company cannot exceed 20% of Fund assets (€8m). There is also a limit of €2.5m per financing round, with consecutive rounds spaced no less than 12 months from each other.

Every effort will be made to support and add value to portfolio companies.

The Fund will also seek to optimally use subsidies, EU financing programmes, tax breaks and so on in combination with own financing for potential investments; this is not, however, a criterion for selecting investments.

Co-investment with other funds is a distinct, and often welcome, possibility to be examined on a case-by-case basis.