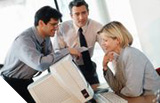 Attica Ventures was established in September 2003 as a venture capital fund management company, and is part of the Attica Bank group.
| | |
| --- | --- |
| | Attica Ventures aims to invest in innovative small and medium enterprises (SMEs) that are in their development phase, hold a distinctive competitive advantage and have excellent potential for equity appreciation and international competitiveness and presence, regardless of the industry they compete. Our target size of investment is between € 3-7 million, but we are able to accommodate any size of investment in cooperation to strategic partners and/or co-investors. In most of the cases we intend to take minority stakes, supporting the management achieving their goals. |
At the same time Attica Ventures supports its portfolio companies on an as-needed basis in areas of strategy, processes, corporate finance, and marketing.
Attica Ventures's two key objectives are:

To significantly add value to its managed capital by achieving high rates of return.

To present our investors and our portfolio companies with new investment opportunities in cutting-edge sectors in Greece, thus furthering the development of their business activities.