The first venture capital fund managed by Attica Ventures was set up in 2004 under the name Zaitech Fund.
Why
"Zaitech";
This name is a combination of the Japanese word Zaimou (=economy) and the word Technology. In etymological terms it could be interpreted as 'profits from investments in technology'.
The Fund's capital is € 40 million, with a duration (lifecycle) of 10 years (with the option to extend to a further 2 years) and an investment period of 5 years.

The Zaitech Fund will aim to maximize returns on capital invested by its shareholders, through building a portfolio of companies across a number of sectors; preferably in innovative companies in key sectors (such as telecommunications, IT, energy, e-commerce, biotechnology, new materials) and in companies whose competitive advantage is founded on applications of technology, and on innovative scientific research.
Our objective is one of reducing risk through spreading investments across different sectors/markets, and also through making a substantial number of investments.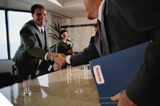 Therefore, investments targets will be companies (Societes Anonymes or Limited Liability Companies) in the initial stages of development (seed, start–up capital, early stage capital, expansion finance and development finance) which seek to finance their development or expand into international markets. In geographical terms, the Fund covers the Greek market as a starting point for business activities and invests in businesses which have their registered legal base in Greece.