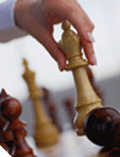 We are primarily interested in investing in innovative SMEs operating in Greece in any business sector.
Due to their inherent growth prospects, we are especiallyl interested in "new economy" sectors and in companies whose competitive advantage is founded on the application of technology. The Zaitech Fund focuses (but not exclusively so) on opportunities in telecommunications, IT and its applications (Internet, etc.) and energy, since these are the sectors where significant developments are expected over the years to come.
Due to our legal operating framework (Law 2992/2002 & TANEO regulations), the Fund may only invest in companies with registered legal base and actual HQ in Greece. Investments in other countries are possible only when they are associated with companies with a legal and actual base in Greece, which have an export orientation.
We are also interested in opportunities which have the prospect of becoming attractive takeover targets for international companies seeking to expand their activities into Southeastern Europe.