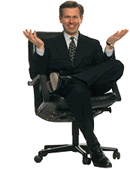 Ç Through its executives Attica Ventures has considerable experience in assessing and evaluating investment plans and schemes.
Attica Ventures constantly assesses the feasibility of targets set for portfolio companies on the basis of market and competition data, contributes to day-to-day operations, and proposes, if necessary, alternative financial structures or appropriate corrective actions. In collaboration with portfolio companies, Attica Ventures continuously monitors markets and competitors and assists in strategic planning.
Through its entrepreneurship network, Attica Ventures can help with filling executive positions crucial for a new company/s development. In the finance area, it supports portfolio companies in a consultative role while also drawing on Attica Bank's know-how. Attica Ventures tries to secure the best possible financing options in addition to the entrepreneur/s contribution and its own.
Through the management team/s experience in developing new companies, Attica Ventures can provide help with technology and operational issues through e.g. securing deals with distributors, or setting up technology, marketing or manufacturing partnerships.
Support services include:

Process Optimisation and cost reduction (e.g. supply chain, logistics, suppliers, production processes, IT infrastructure)


Developing sales / customer base, marketing, partnerships.
In conclusion:
We consider the management team/s complementary skills a key advantage of Attica Ventures. This is based upon:



several years' experience in their fields


complementary academic backgrounds


significant management experience


excellent knowledge of both the Greek market and international markets