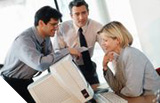 In our effort to implement our strategy we seek partnerships with leading companies in our focus markets as well as with universities and research centres throughout Greece.
The objective in forming these partnerships is the establishment of a powerful business network to closely follow innovation and cutting edge developments in our focus markets, and also information sharing as well as technical and other support for business initiatives in which the Fund may invest.
We expect these partnerships to be beneficial for all partners, supplemented by a series of initiatives that will be implemented throughout the lifetime of the Fund.